Deputy President William Ruto has been forced to intervene after a man claimed to be the son of a former Busia North Member of Parliament Fredrick Oduya chained himself to the gate leading to his office.
The DP's spokesperson Talam Emmanuel said the issue has been solved.
The young man identified as Lawrence Oprong had been removed from the place and taken to the Central police station before the deputy president intervened.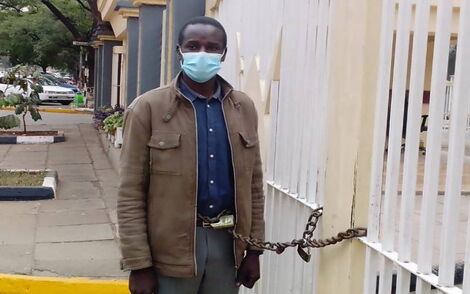 He chained himself at the grills of William Ruto's office saying he would only move out of the place after his concerns were addressed by Ruto.
He did not want to address anyone except Ruto.
Oprong who is believed to be the son of the former MP claimed the Deputy President promised him a job four years ago and had not committed his promise.
"I do not want to speak a lot I just want to see the Deputy President and explain to him my woes. I have tied myself here not by liking so do not take me as a man.
"I will remain here even if it will be for a week until I see him," Lawrence explained after he was asked randomly.
A recent survey reveals that employment is a problem, especially among the youth. Ruto has promised to change the economy of the country through his bottom-up economy approach. According to him, the economy can only be improved by starting from the grassroots level.
On the other hand, the ODM leader Raila Odinga has promised to be sending ksh.6000 to every household that is struggling every month when he ascends into power after the General Elections.